Classics
An Elegant Touch of Strings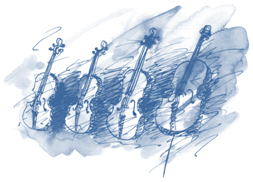 "We are still hearing praise about our music." -Fondly, Melissa and Chuck
"THANK YOU for your beautiful performance at our wedding. I would be thrilled to be a client reference should you ever need one. You were an absolute pleasure to work with, and your beautiful music made our wedding ceremony so special." Hillary and Brent, Mission Santa Clara, September '13
A FEW FAVORITE CLASSICS
It's never possible to list all of our classics as we acquire others from time to time and, well, the list would be just too large. Please let me know if you don't see a song you'd like. We may very well have it!
Hungarian Dance #4 by Brahms ~ Eine Kleine Nachtmusik by Mozart
 Serenade by Haydn ~ Brandenburg #2 by Bach
 Laudate Dominum by Mozart
Minuet by Boccherini ~ Meditation by Glasonov
Humoresque by Dvorak ~ Romance by Schostakovitch
Clair de Lune by Debussy ~ Brandenburg # 3,  2nd Mov- Allegro by Bach
 Concerto for Two Violins by Bach ~ Nocturne by Chopin
Autumn and Spring, Allegros, by Vivaldi ~ Cello Suite No.1,Prelude by Bach
Passacaile and Gigue by Handel ~ Quartets # 1 & 4 by Mozart
La Cinquantaine by Gabriel-Marie ~ Minuet in G by Bach
Piano Concerto Theme #21by Mozart ~ Divertimenti #1, 2 & 3 by Mozart
TheFlower Duet Song from Lakme by Debelius
Violin and Lute Concerto by Vivaldi ~ Christmas Concerto by Corelli

And of course Waltzes– Strauss, etc! 
Please ask if you don't see it. I may have it.
We offer a wide array of styles