Options
An Elegant Touch of Strings
SOLO  ~ DUO  ~ TRIO  ~ QUARTET ~ QUINTET
Whether you're searching for live music for parties of any kind or memorial services and masses, this page is to help you decide between the number of musicians that would work best for your event and your budget. You can also visit our suggestions page for other information to help you organize your event with live strings.
We're highly adept at any wedding style or denomination so you'll feel secure knowing that we'll know when to play and end each facet of your ceremony.
It's no mistake that our composers who write for the movies take advantage of the gorgeous sound of strings in abundance.  I'm not surprised. It's why I am a string musician. The sound of strings continues to amaze me in their ability to affect our mood and it's mood and atmosphere that one wants to set for a special event. Let me know your date and location and I can quote for each of these choices below. No matter what you choose, a live performance can't be beat for elegance and atmosphere.
"Hearing live music is so memorable!" – Sincerely, Debbie R.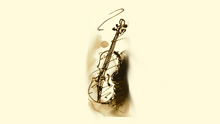 Solo violin is an elegant choice.
From my client, solo violin: "Thank you so much for Friday Sherry!!! It was beautiful!! Danielle, 9/9/11
Most of our arrangements work for solo violin. If you were to listen to, for example, our Ave Maria or Salute 'd Amour then it wouldn't take much to imagine what a solo violin sounds like. The sound carries well for smaller gatherings and for most outdoor weddings as well. It certainly is an economical way to go when one wants the beautiful ambience or a stringed instrument.  Maybe 7% of our clients find a solo violin to be perfect for their live music needs.
To the String Duet; "Thank you so much for helping to make our winter Banquet event a success. You added so much atmosphere to make it a beautiful evening." Sincerely, Social Committee, Berean Christian High School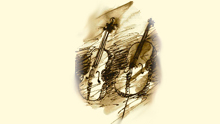 Our string duo is usually a violin and cello although some choose two violins. Violin and cello is more popular with our clients as it provides a melody and strong bass line, whereas with our two violins option the second violin provides a closer harmony. Both are beautiful and almost all of our arrangements work very well for string duo which account for around 30% of our engagements. We didn't record for duo but if you want to get a good sense of what a string duo sounds like then listen to our baroque pieces, such as Hornpipe or La Rejouissance where the instruments take turns in groups of two, three and four parts. I also think that our Ave Maria, while it is our full string quartet on our recording, can be imagined well as a duo because you have the strong melody and bass line. And as I've said, we're not limited to classics since I've chosen our arrangements of most of the music we offer to work beautifully for violin duo.  Our string duo can be heard well inside or outside for smaller groups and actually carries well outside for even larger weddings and events. It's when you get inside that you have to be sure to place a duo in a more centrally localized area to be enjoyed by all.
"All of our guests thought your trio added an exceptionally elegant touch to the event and the music was absolutely exquisite. We would recommend you to anyone. And we plan to!" Brett and Jennifer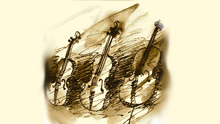 Our string trio is our most popular combination.  The melody is accompanied in close harmony by another part along with  cello bass line. Around 40% of our clients find the string trio perfect for their needs and still match the budget they've set aside for their live music. The string trio would work well for just about any outside event and can accommodate up to 150 or more guests and depending on their being more centrally located for the enjoyment of all. The famous composers wrote in abundance for the string trio, taking advantage of its flexibility, color and dynamics.
"The string quartet was so beautiful and such a perfect addition to the setting at the Hacienda de las Flores. My husband and I received So many positive comments about the music!" Sincerely, Jill S., Hacienda de las Flores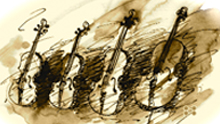 Our string quartet is chosen approximately 25% of the time. Often our clients are on the borderline between having budgeted for a trio and quartet. The two combinations are close in sound with the string quartet being rounded out a little more because of the extra harmony added by an inner string player.  I would recommend a string quartet for very large events and smaller events alike. As for outside, it's not an issue over the choice of a trio or even a duo as our sound carries well in most situations for all of our combinations. Composers have written in abundance for string quartets. All of our music works beautifully for this medium. Occasionally a client asks if a quartet would be too loud for smaller situations and the answer is always no. We play for the room and comfort of the guests. Luckily live strings have this capacity.
"Thank you for making our wedding so treasurable. Everyone came to me saying how beautiful you sounded and that it was a great idea to have you at our wedding. You played every song that I wanted and were perfect for the occasion." – Sincerely, Guy and Shala L.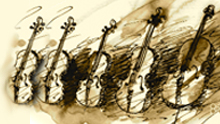 Our string quintet is closer to a small orchestra as all of the parts that are written for symphony strings are covered in our string quintet. Because of the price of five musicians our quintet is not hired as often but is an option we offer. We really enjoy the chance to play as a quintet from time to time. It's a great option when your event is really large but also is never overpowering for smaller gatherings since play for the size of the room and comfort of the guests. It's always our goal that our guests can socialize and still enjoy the music!
"Having strings for our ceremony gave it that elegant feel we wanted at Wente Vineyards!" Thank you, Wendy and Danny