Suggestions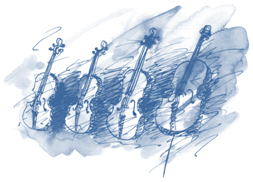 "You made the whole process so comfortable and worry-free. Thank you for making our ceremony that much more beautiful." – Sincerely, Jennifer C.
Suggestions to help you Organize your Even
t
These are some of the most common questions and concerns expressed by our clients. I hope they will be helpful!
Your Ceremony
We'd like to recommend that you have us start thirty minutes prior to a ceremony with music to greet your arriving guests.  If the ceremony will be lengthy then please use the two-hour time. Most weddings start late, and some very late. It's why I have only graded the price to be just a little more for that extra time. There are logistics to adding the extra thirty minutes later for the quoted price so please talk to me about it, if it's a possible concern. Most Catholic and Greek Orthodox weddings are lengthy, and many other denominations as well. If you're adding other music or facets to the ceremony then you will want to consider the two hours time frame. You'll never regret more music.
The style of music is up to you. Many like to start with classics and continue through the ceremony, knowing that they'll have more modern music later for their guests. Others prefer more contemporary music during their ceremony. Be sure that if you are having your wedding in a church that your church allows contemporary selections.
Cocktail Time
Live string music is a beautiful touch for your guests and while you're off to get your pictures taken. Most cocktail times are forty-five minutes to an hour. Keep in mind that your ceremony may run over to affect the start time. You can check with your venue if you're unsure how much time they've designated for the cocktails. We have a lot of wonderful music to play during this time. Please see our repertoire!
Receptions and Dinners
As with the cocktail time it's a wonderful addition for you and your guests to have live music during dining. Our strings make for ease of conversation and add elegance. We enjoy performing for longer events and have a vast repertoire to appeal to a rather wide range of tastes. One might have classics for the earlier part of the event and then lighten up later with more contemporary music or a nice combination.
Corporate Events
Corporate events are a special time when colleagues are catching up with others, whether it's for business or just fun. Live string music is a wonderful option for ease of speaking and being heard, and added elegance to accompany your setting and venue choice. We really enjoy performing for corporate events. Some companies have us for the first 1 ½ or two hours, others for the entire event. We can play all classics or a nice combination. I'd like to recommend a duo or trio for small events, trio for 150 or so guests and quartet for 150-250 guests. We have many companies that have had us perform for their corporate event for several consecutive years.
Anniversaries and Parties
We are often hired to add a special atmosphere to anniversaries and parties of many kinds. These events are usually smaller in nature. Strings are a perfect compliment to the detail you've put into every facet of your venue. Our duo is often used to grace smaller parties though some of our clients like to expand with our trio or quartet even if the event is small. It's just a matter of your budget and vision. The amount of time recommended would depend on your idea of the overall effect. Some companies hire us for their greeting time while others have us play through the entire event.
Number of Musicians
Our options page will give you some ideas that should be helpful as to the number of musicians needed and feel free to contact me as well.
Hope these suggestions have been helpful. Feel free to call or email me for anything I've not covered here!