Demos
An Elegant Touch of Strings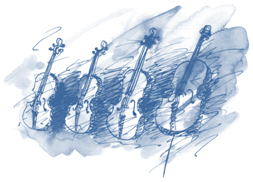 "Just wanted to send a quick note to say thank you for helping make our day so special and memorable. The music was fabulous and folks really enjoyed it throughout the evening. I could't have been more pleased, thank you!! Annette R., Murietta's Well, 7/7/18, 3.5 hr performance

"I had the privilege of listening to you at the bridal fair yesterday…I was blown away! I am the ex-violinist. I'm interested in the trio for my wedding reception….What beauty you all create. Its angelic to hear you play."

Aug 8, 2011

"The music was beautiful and thank you for accommodating our requests. One of the groomsmen did a little video clip of him dancing while Funkytown was played at the end of the ceremony. The video clip was funny!" Nov 2011

"You played for our groom's sister's wedding in 2005 and the family is still talking about the special touch the music added to the event." Oct 2011
Click on a song title to hear our Live Strings recorded. As for some of the more recent popular songs you can hear samples created in electronic strings (not live but will give you a good idea how the song would sound except live strings are better of course!), just go to the bottom of the Contemporary Song List to hear these.
2.    Jesu, Joy of Man's Desiring
4.    Hornpipe
10.  Bridal Chorus
11.  Wedding March
14.  Emperor Waltz
15.  It Had To Be You
17.  Blue Moon
18.  Fascination
19.  Blue Tango
20.  On This Night of 1,000 Stars
21.  Autumn Leaves
Click here to download Quicktime to hear our sample recordings
I'm getting the more popular and/or requested demos of some other tunes from my arrangements at the bottom of the song list under 'Contemporary, Pops and Jazz Standards'. These are created by synthesized strings and while they don't represent the beauty of live strings they can give you a general idea of my arrangements.
These below are very short and simple demos below, performed on piano to help you recognize a few more classical pieces:
We do not offer piano but they will help you recognize a few other song titles that are commonly enjoyed for ceremonies and receptions.
"THANK YOU THANK YOU THANK YOU. EVERY feedback comment was 100% positive. I remember feeling completely happy and delighted walking down the aisle. It was an amazing performance and we could not have been happier with your contribution to our event. "Most Sincerely, M.S. May 3, '13, HakoneGardens 
Thank you for listening to our demos!