We occasionally do symphony performances. This was more of an informal show for the families and their children to get acquainted with various instruments. There was even a 'petting zoo' of instruments after that the children could experience.
Who'd have thought that a string bass case would make a perfect sleeping bag? Well, here's proof!
The repertoire was fun with talks of puppet shows and various animals and expressions discussed to help the children relate to the music. This may be the closest many of the kids will ever be to a real symphony. We were told that our dress was casual to help with the informality of the event. Diablo Symphony is fortunate to have two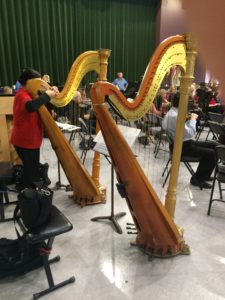 wonderful harpists.