Perfect Friday late afternoon at Stanford's Cantor Museum was our next assignment!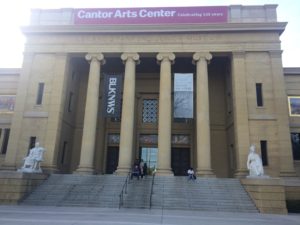 Some of our musicians really enjoy performing in the outdoors, stately vineyards and country clubs, and while that is quite fun I personally enjoy the opportunity to perform in museums. It's always so classy and the high ceilings reverberate the sound so well.
Can't go wrong having a string quartet or any size group perform in a museum! We performed two hours as a string quartet for this corporate party.
They provided us with a very interesting song list. The variety made the performance that much more interesting for their guests as we saw different reactions to songs, whether a Brandenburg Concerto, Clair de lune, or Game of Thrones– I think we'll agree these are quite different! Here's a few favorite pics I took before and after our performance.
On display as part of the museum facade